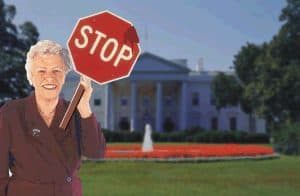 WASHINGTON, DC — In an interview on Face the Nation, President Obama regretted using the term "douche bag" when referring to a local 80-year-old crossing guard.
The President, trying to diffuse the situation and redirect attention back to his healthcare plan, said he used an unfortunate selection of words and could have "calibrated them differently," but stopped short of offering an apology.
He briefly considered using the term "geriatric piece-of-crap," according to White House Press Secretary Robert Gibbs, but thought it might come across as too elitist.
The incident that sparked the controversy occurred on Friday, when Obama's daughter Malia was walking home from grade school, accompanied by two Secret Service agents.
As they arrived at the corner, Safety Officer Marlene Toomey, who has been a crossing guard for fifty-eight years, instructed the trio not to enter the crosswalk until she blew her whistle.
Ignoring her directives, the Secret Service agents prematurely escorted the ten-year-old across the intersection before Mrs. Toomey could even hold up her stop sign, inciting her to strike one of them over the head with the hard edge of the red wooden octagon. The agent suffered a mild concussion.
"Although she acted like a complete pinhead," said the President, "it was a poor choice of words, and I could have expressed my opinion of that wheezing gag of phlegm in a more thoughtful manner."
Mrs. Toomey refused to apologize for her actions, saying she acted in accordance with the traditional standards for decrepit little old ladies harassed in crosswalks. "He's lucky I didn't hit him with my purse," she said. "I got a big bottle of Pepto in there."
The injured Secret Service agent, who has since recovered, said he is mostly to blame for the misunderstanding. "I was wearing my ear buds, listening to Michael Jackson," he admitted. "I wasn't paying much attention to that hobbling corpse or her pathetic little red sign."
The National Crossing Guard Association released a statement in support of Mrs. Toomey, saying that the President's words were "an insult to all the dementia-riddled, foul-smelling, antiquated crossing guards throughout the country, who each day put the safety of our children on the line with their poor vision and sluggish reflexes."
Vice President Biden was sent in for damage control. Speaking to a group of AARP members, he rattled off a number of alternate expressions the President could have used.
"He could have called her a 'Crazy Alzheimer's Lady,'" said Biden, "or a 'Washed up coffin whore,' a 'Shit smelling sack of crackling witch bones,' a 'Stanky crack,'  a 'Cranky stank,' 'Crusty cane poo,' or even an 'Old pod of dangly flesh' – but the President chose to take the high road."
He added that in the collective sea of epithets, the one Obama used really wasn't so bad.
"The White House gets letters all the time addressed to 'Douche Bag,'" explained the Vice President. "The mail room likes to forward them to me."
President Obama hopes some good might arise from the controversy.
"By verbally bitch-slapping that frail octogenarian," he told reporters, "we've opened the doors to dialog between white, black and all those aging curmudgeons who are adding trillions to my healthcare plan."