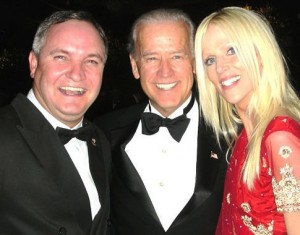 WASHINGTON — Vice President Joe Biden exposed a breach in security last week when he showed up at a White House state dinner, uninvited.
"We don't know how the vice president got in," said a spokesperson for the Secret Service, "but we take security breaches seriously and are initiating a full investigation."
The White House confirmed to the TheSkunk.org that Biden was not on the guestlist for the State Dinner hosted by President Obama for Indian Prime Minister Manmohan Singh.
"The Vice President attends functions for smaller countries like Monaco and Beliz," read a statement from the White House Office of Social Affairs, "but there is a standing policy against inviting him to any event involving countries that have nuclear weapons."
According to sources, Biden entered through the pedestrian entrance, and showed his ID to the secret service agent stationed at the gate. The agent apparently failed to cross check the Vice President's name against the official list of invited guests.
Although Biden had his photo taken with the president and several dignitaries, the Secret Service said he did not pose an immediate threat.
"Aside from making a few regrettable comments," said the spokesperson, "he didn't get on too many people's nerves."