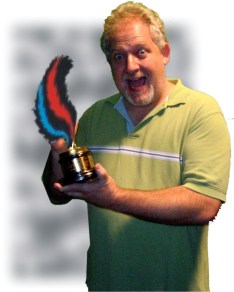 Editor-in-Chief Braddon Mendelson swears it's a real award, and not something he made up just to drive more viewers to his website.
Jan 28, 2010 – The name of Bernard Madoff, the disgraced Wall Street scam artist currently rotting away inside a federal prison, was resurrected yesterday when an article on comedy website The Skunk, "Jews Demote Madoff to Arab," was honored as the second best satire news story of 2009 by an expert panel of journalists and humor writers in the Fifth Annual HumorFeed Satire News Awards.
The Skunk, which bills itself as "Tasteless American Satire for the Ill-Informed," was created by writer/producer Braddon Mendelson, who serves as the online publication's editor-in-chief.
"We're thrilled with the honor," stated Mendelson, who wrote the Madoff article. "I'm grateful to HumorFeed for the opportunity to compete against such great satire sites, and to Bernie Madoff for affording comedy writers with such a wealth of material."
# # #
Braddon Mendelson is the CEO of Noisivision Studios (www.noisivision.com) and serves as editor-in-chief of The Skunk (www.TheSkunk.org). Earlier in the century, Mendelson wrote for Sony Pictures Television International's award-winning German sitcom, "Ritas Welt" ("Rita's World").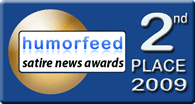 HumorFeed (www.HumorFeed.com) is a selective association of over fifty satire and humor websites primarily from the U.S., U.K., and Canada. For its annual competition, an independent judging panel rates the top stories from among over 3,000 headlines run during the previous year. The panel this year included Dave Kartunen, news anchor for Boston NBC affiliate WHDH, Emmy-award winning journalist Robert Zelnick, chair of the Boston University Department of Journalism; bestselling author Eric Weiner, former NPR correspondent; and humor columnist Madeleine Begun Kane, winner of the 2008 Robert Benchley Society Award for Humor.