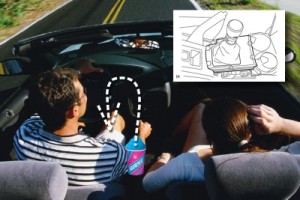 NAGOYA/DETROIT — Toyota announced today is has identified a defect in the design of its cup holders as the source of acceleration problems associated with its popular Corolla, Camry, Tundra, Avalon and RAV4  models. 
"When a driver places a 32 ounce drink, say a super-sized Slurpee for example, in the cup holder," explained Executive Vice President Shinichi Sasaki, "the vibrations created at speeds over 50 miles per hour cause a tiny amount of the beverage to spill out onto the driver's leg.  If there is ice in the cup, the liquid will be extremely cold, resulting in the person urinating on himself.  The humilation caused by the foul smelling bodily fluid streaming down his leg is too much for the the driver to bear. Believing death to be the only honorable solution, he will close his eyes and slam his foot onto the accelerator pedal, causing the vehicle to speed wildly out of control."
The world's largest car manufacturer said it regrets any loss of life incurred by its valued customers, but respects their decision to end their lives honorably in a Toyota product.
The company believes its engineers have found a remedy to deal with the defect.  "Toyota will install a small hand towel connected to the dashboard," according to an announcement on the troubled automaker's website.  "If any cold liquid spills from the cup onto the leg of the driver, the hand towel will be automatically be deployed to dry the spill before the coldness causes the urination which, in turn, causes the gas pedal to be depressed during a state of suicidal embarassment."
Toyota is still experimenting with materials from which to make the towels. "So far, we've ruled out vinyl."
Until they have the design flaws figured out, morotists may go to any Toyota dealer and ask the service manager to manually sop up their urine.
Toyota expects to have the Anti-Urination Towel Absorption Devices ready by mid-Spring.  Dealers will install them at no expense to the customer.
Meanwhile, Toyota has advised motorists not to use their cup holders.