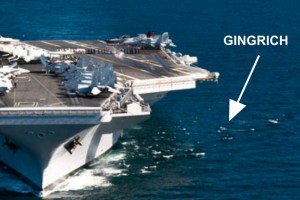 ARABIAN SEA (TheSkunk.org) — Republican presidential candidate Newt Gingrich was lowered into the sea today from the side of the USS Ronald Reagan, in what the Pentagon is calling a "regrettable mistake."
Gingrich had reportedly been touring the vessel as part of his campaign to convince conservatives he would be hawkish enough to serve as America's next commander-in-chief. Navy officials, however,  were never notified of his visit. According to one source, "He just kind of showed up and no one really knew who he was or what he was doing there."
The events that followed are yet to be sorted out, but according to Lieutenant Commander Jerrold Hamman, the seamen "got a creepy feeling from this guy" and decided to take decisive action – action that concluded with the former House Speaker being placed in a weighted bag and tossed overboard.
An investigation is underway as to how Gingrich actually got onto the ship, which was at sea some 8,000 miles from his home state of Virginia.
"We heard him mumbling something about ending medicare and paying off an account at Tiffany's right before we pushed him off," noted Seaman Michael Durg, "and then we realized: 'Oh shit, he's still alive!'"
"Doh!" quipped Durg, who playfully slapped his forehead à la Homer Simpson.
"Sometimes we have to act on instinct, and we thought this guy could have been Al Qaeda," explained Hamman.  "It's an embarrassing mistake, but we have to brush ourselves off and get back up on that proverbial horse."
"Hopefully this doesn't scare off other politicians," added Durg. "We're all looking forward to a visit from Sarah Palin."