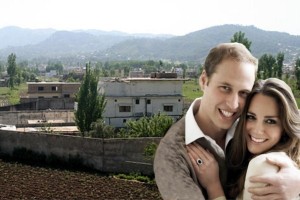 LONDON (TheSkunk.org) — Prince William and his wife, the former Kate Middleton, have finally left for their honeymoon to the city of Abbottabad, Pakistan.
Now known as the the Duke and Duchess of Cambridge, the royal couple flew to the cozy tourist town, which lies nestled in the beautiful Orash Valley, in a private jet Monday to spend 10 romantic days at the sprawling resort complex formerly occupied by Osama bin Laden.
Abbottabad is surrounded by the romantic Sarban hills, from which residents and tourists can see breathtaking views of the region.
Privacy has long been a main concern for the royals while planning their honeymoon.  Britain's Daily Mail has quoted a source as saying: "They wanted to get away from the daily grind of emails and phone calls, and spend time together in a secluded place where no one will bother them."
Prince William reportedly told his friends that he looks forward to staying in the Bin Laden Suite, where he can make love to the Princess and watch adult movies on cable TV "all day and night."
For Kate, it's the "shopping, shopping, shopping" that has allured her to Abbottabad.  "They say you can get a splendid deal on a handmade purse," said the Duchess, "not to mention the world's finest handicrafted jewelry, made from dry grass and camel dung."
Toward that end, William has given his bride 500 pounds to spend "any way she sees fit," an announcement that has put the Prince clearly on the defensive.
"For godsakes, this woman will one day be queen," he said. "I want to see to it that she has a little spending cash."
The royal couple also plans to go spelunking in the mountains along the Afhghan-Pakistani border. "Kate and William love exploring," explained an insider.  "Going in and out of the caves and tracing the historic routes taken by Al-Qaeda and Taliban soldiers should be a real blast for them."
Abbottabad has a humid subtropical moderate climate. It has a population of 881,000 and was named after Major James Abbott, who founded the town in 1853, during the British rule of India.
"This town and all of Pakistan will one day be reunited with the rest of the Bristish Empire," noted William. "Until then, Catherine and I shall enjoy all its wonders as tourists and representatives of the crown."