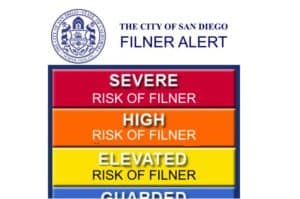 SAN DIEGO (TheSkunk.org) – Another mayoral harassment will occur sometime in the next 30 days, according to information obtained by the Department of Homeland Impurity.
Authorities who have been monitoring Mayor Bob Filner's communications have detected an increase in his inappropriate sexual chatter and believe he is intent on striking sometime within the next month.
The city's Filner scale has been raised to red, the highest alert level, signifying a severe risk of Filner.
"We have credible evidence that Filner will harass again," said a spokesperson for the city. "We are asking women and long-haired men who look like women from behind to evacuate the city immediately."
The spokesperson said they are not sure whether the attack will be in the form of a sweaty hand on the breast, an ignorant sexist comment, or a slobbering tongue in the ear, but say that chances are great that Filner will engage in some form of repulsive behavior.
"We wouldn't take these precautions if we didn't think the threat of Filner was clear and present," said the spokesperson. "Our goal is to prevent the Filnering of any more of our citizens."
"We don't know exactly what harassment method he'll use or when he'll use it," he added. "But the evidence that he is planning to make another woman puke up her lunch is extremely overwhelming and overwhelmingly creepy."