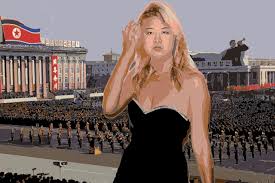 HOLLYWOOD, CA (TheSkunk.org) — Sony Pictures today announced its plans to produce a sequel to their controversial motion picture "The Interview" — the film that was originally scheduled to open December 25th, but was pulled due to threats from the North Korean government.
Planned for a 2016 release, the script — tentatively titled "The Interview 2: Supreme Sex-Change" — is being developed by master screenwriter Aaron Sorkin.
"I believe this will be a film that Kim Jong-un will really like," said Sorkin. "This story revolves around the Supreme Leader's journey into self-discovery, when he realizes his gender at birth does not coincide with the sexual identity he feels inside."
According to a Sony spokesperson, the Kim Jong-un sex-change scene will be handled "delicately and in good taste."
"When they place his surgically removed penis in a display case in the National Museum, the audience will break out in tears," added Sorkin. "I cried like a baby when I wrote it."
Sony has sent the first draft of the script to the Kim Jong-Un regime for approval.
"We value the Supreme Leader's insights," said the spokesperson, "and look forward to his notes."