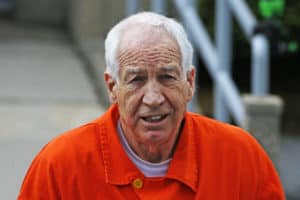 GREEN COUNTY, PA (TheSkunk.org) — After being harassed and threatened by fellow inmates at the maximum security facility where he is serving a sentence of 30-60 years for child sexual assault, Jerry Sandusky has asked to be transferred to a juvenile detention facility. The former Penn State assistant football coach said the torment he receives daily by the other incarcerated adults causes him anxiety and insomnia and believes a new environment would help with his rehabilitation.
"I would be much better off locked up with the young people, don't you think?" asked Sandusky, 73. "You know, the 13-17 year-olds, preferably male, who have made some mistakes in their lives and are now in need of a father figure — one who can groom them into the type of men who don't rat-out their father-figures."
The Pennsylvania Department of Corrections said they are unable to grant his request, but would consider moving him to a medium-security facility, provided he stop talking.