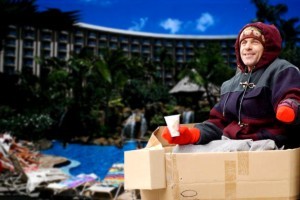 WASHINGTON — A report issued today by the United States Census Bureau reveals that poor Americans are not going on vacation nearly as often as their wealthy counterparts.
And the travel industry is taking note.
Based on a survey of 500 of the nation's wealthiest and poorest individuals, the study offers an eye-opening portrait of the way poverty has taken its toll on tourism.
While the rich vacation in exotic locales, such as Bahamas or Monaco, often flying in their own personal jets, the poor are content with sleeping on bus benches in their own neighborhoods, sharing leftover sandwiches with pigeons and hoping to wake-up from the horrible nightmare they call life.
Many economists believe that getting the poor to journey from their cardboard homes to the inside of a commercial airliner would jump-start the sluggish economy.
But the nation's impoverished are unmoved, maintaining a spending level that is "barely measurable" according to Dr. Hans Lauter, Assistant Dean of the Business Department at UCLA.
"Yes, we need their dollars," said Lauter, "but the poor aren't opening their wallets — it's as if they're unaware of the economic freefall the rest of the country is experiencing."
Lauder believes poor people can play a vital role in stimulating the travel sector by merely "spending a weekend in Vegas or the Grand Tetons."
"Across the county, millions of vacant hotel rooms are available for well under two-hundred dollars a night," he said. "I tell my homeless friends, 'Now is the time for that getaway you've been dreaming of."
But for the homeless, a group traditionally tight with its money, that "getaway" is often low on their list of priorities.
Fred Johnson, an unemployed architect and father of four, recently lost his home to foreclosure. "You know what I dream of?" he asked. "I dream of finding that fucking loan officer and planting a bullet in his forehead.  Fuck the Tetons."
"We need to do a better job in reaching out to the impoverished and getting them excited about travel," admitted Roger Fleishmann, Director of the National Tourism Board. "If they only knew how relaxing it was to ski down a blanket of snow in Aspen, or go on a shopping spree in Chicago, I'm sure they'd start calling their travel agents."
According to Fleishmann, if only ten percent of the nation's destitute were to purchase round-trip airline tickets to anywhere in the country — and stay there for at least a week — "the recession would be over, just like that."
The travel industry is working to address this issue. The Four Seasons Hotel in New York, for example, has instituted a series of ads designed to sway impoverished guests to stay at one of their 30 facilities nationwide. The "Stay a Night — Wash Your Hair for Free" campaign was designed to educate the needy about the great values available to them when on vacation.
"The rich have known for years about the little complimentary bottles of shampoo," explained Four Seasons Marketing Director Sam Wendes. "But poor people, they don' t understand you can bring these home with you — they think they're going to get arrested. I say, 'No, they're free. Take them.'"
Wendes sees the poor as an untapped resource. "There's tens of millions of poverty-stricken families in this country who have never been to a Four Seasons Hotel. It's my job to bring them in."
Others in the industry aren't so optimistic. "We've been trying to crack that market for years," said a spokesperson for Travelocity.com, whose company has tried everything from offering 50% rebates to discount buffets.
"So far, we've struck-out," he said. "I guess poor people don't get the concept of 'taking a break.'"