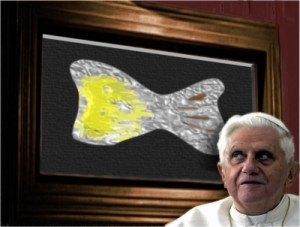 VATICAN CITY (TheSkunk.org) — The stained cloth that was allegedly wrapped around the loins of Jesus to absorb his final urination is a fake, according to a prominent scientist. Dr. Bob Stroozler of the University of California, Berkeley asserted the legendary "Shroud of Urine" was soiled only 20 years ago — and not 2000, as was previously claimed.
According to Stroozler, who was allowed to bring the material to his lab for testing, the fabric used to create the shroud was woven in a textile mill in Greensboro, North Carolina and would not have been available during the time of Jesus. He deemed the cloth to be "basically a big diaper with nothing much extraordinary about it."
In addition to the yellow coloration on the front of the cloth, Stroozler also noticed brown streaks imprinted on the opposite side. Further testing revealed the stains to contain traces of carrot sponge cake, a McDonald's Big Mac, and Tetrahydrocannabinol (THC) — the psychoactive chemical found in marijuana.
Although believers are certain to question his findings, Stroozler remains steadfast in defending the results of his study.
"The Shroud of Urine is not a relic of antiquity or a sign from god," explained Stroozler, who came up with his own hypothesis. "Some guy got stoned in the late 1980s, pissed his pants and had a little leakage from the rear. So haven't we all?"
A spokesperson for the Vatican said they are still reviewing the study, but even if the findings are confirmed, the shroud will still be held in high regard as a symbol of their faith. "Even though the artifact may not be authentic and the urine contained therein may not be that of our savior," he said, "there is no dispute that Jesus was sure to have peed upon himself as those nails were driven into his hands."
The Shroud of Urine will be on public display in the main Vatican men's room through July 2011.