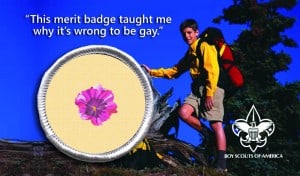 IRVING, TX (TheSkunk.org) — The Boys Scouts of America has created a new merit badge designed to teach scouts "all about gay sex," according to National Director John Durham.
"Although we prohibit gays from participating in the Scouting program," explained Durham, "we recognize the importance of teaching our boys about homosexual relations so they may better understand why we discriminate against them."
Durham said it is a testament to the enduring appeal of scouting that thousands of experienced older men have already applied to be "merit badge counselors," whose job it is to sign off on the award once a scout has proven his mastery of the subject matter. "The only qualifications are they can't be queers or atheists."
The gay sex merit badge will make its debut August 1, coinciding with the 85th Annual Boy Scouts Jamboree in San Francisco.