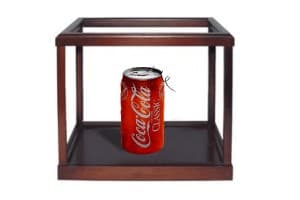 WASHINGTON — When Anita Hill testified at the 1991 Senate confirmation hearings for Supreme Court nominee Clarence Thomas — for whom she had previously worked as an assistant — she recounted several incidences where Thomas engaged in inappropriate sexual conversations. On one of those occasions, Hill told senators, Thomas examined a can of Coke and said, "Who put this pubic hair on my Coke."
Thomas's nomination was eventually approved by the narrowest of margins, 52-48, and he has been serving on the high court ever since. But what of that pubic hair? For two decades, its whereabouts has been unknown — until now.
The Smithsonian Institute has acquired the curly strand — follicle still intact — and will put in on display beginning December 1, 2011 in a new exhibit entitled "Justice Thomas: Nominated by a Hair."
Assistant curator Andre Folman said the authenticity of the pubic hair has been confirmed by DNA analysis, and deemed to be that of the 106th associate justice.
"The pubic hair will be displayed on top of a can of Coca Cola, just as Ms. Hill described in her testimony," said Folman. "We don't have the original can, but we believe it was a Coke Classic, and we were able to find an identical one from that period of time."
Although the display will educate the public about a notable moment in American history, Folman said one question remains unanswered.
"Science can verify the source of the pubic hair," said Folman, "but we still don't know who put it on the Coke."
Added Folman: "I have my suspicions."