Local Wal-Mart Apologizes for Accidentally Carrying Hanukkah Wrapping Paper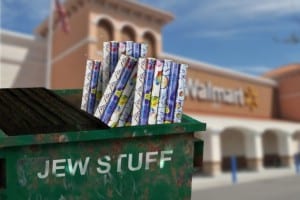 FAIRHOPE, AL (TheSkunk.org) — Christian protestors expressed their outrage yesterday outside the Wal-Mart on County Road, after someone in their Church discovered Hanukkah wrapping paper for sale in a bin at the end of the Christmas aisle.
"I was shopping for traditional green and red Santa Claus and Nativity Scene gift wrap," said Bertha McGregor, "when I suddenly came upon several rolls of blue and silver paper adorned with six-pointed stars – as opposed to the normal, five-pointed Christian stars, like the ones the Wise Men saw in the night sky above Bethlehem ."
According to McGregor, that's when she realized the retailer was selling "Jew paper." She immediately went to the store manager to complain.
The manager, Chuck Palminteri, explained that one of their employees accidentally ordered the paper. "After receiving a shipment of two dozen assorted rolls of the Hanukkah wrap," he stated, "we decided it would be more expedient to display it alongside the other wrapping papers than to return it."
McGregor has since ordered the paper removed from shelves and destroyed immediately.
"We realize it was wrong to offer the Hanukkah wrapping paper for sale," he said, "and we apologize to anyone who was offended by this error in judgment."
Palminteri said he has asked forgiveness of Jesus and promised his customers never to allow "a mistake of this magnitude" to happen again.
McGregor does not buy the argument that it was a mistake. "This is all part of the war on Christmas," she declared. "It's political correctness gone amuck, forcing us to plow through non-Christian items in order to wrap our gifts with paper that glorifies our praise for the Lord."
The store issued a statement, expressing regret for carrying the Hanukkah wrapping paper and confirming that "the accidental sale of Jewish themed products does not reflect the views of our staff or management."
Get The Skunk delivered to your inbox for free here.