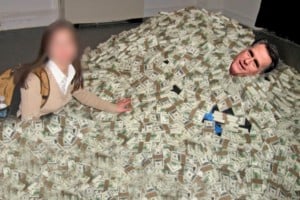 BOSTON (TheSkunk.org) — Presumptive Republican Presidential nominee Mitt Romney released several of his past income tax returns Monday, and the documents reveal he failed to report thousands of dollars earned from performing in a series of pornographic films over the last ten years..
The former Massachusetts Governor made 17 X-rated movies from 2002 to 2010, for which he was paid a total of $185,000, according to a report in the New York Times.
Romney at first denied the allegations, insisting the movies were student films, for which he donated his time and received no compensation. But that notion was challenged in an interview with Anderson Cooper on CNN, who confronted him with the titles of the films. "Do you expect the American public to believe that 'Flip-Flop My Ass' and 'Mandated Muff' are student films?" asked Cooper.
Romney subsequently changed his story, saying he isn't sure if he was paid anything for his performances, but if he was, he is confident he would have reported it to the IRS. "I don't know what's on my tax returns, but I stand by what's on them, whatever it is."
In a statement released later in the day on his website, Romney tried to clarify the matter, stating that the films in question were shot in the Cayman Islands and not subject to taxation in the United States.
"The issue isn't whether or not I profitted from performing various acts on camera with a handful of young and lovely 20-something adult entertainers," added Romney. "The issue is whether or not these performers will be able to find another job next week and the week after that, and whether or not the adult film industry can even survivor under another four years of President Obama's failed policies."