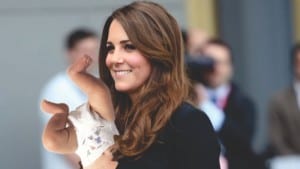 LONDON (TheSkunk.org) — A survey released today reveals 93% of British men want Princess Catherine to breastfeed her baby in public.
Although studies have shown breastfeeding reduces a child's risk of infection, obesity, asthma, and allergies, only a small fraction of British mums actually engage in this age-old custom. Sociologists attribute the increased accessibility of scientific information as the reason men have shown overwhelming support for Catherine publicly breastfeeding the newborn prince.
"Her breast milk would be like liquid gold for the little fellow," said accountant Stan Walker. "We should rejoice in the suckling of Kate's delightfully shaped breasts, so that the future king may live!"
Pub owner Ed Dresden agreed.  "It's a natural, beautiful thing," said Dresden. "If the Duchess came into my pub, she could press the little crownhead's face against her pink and lovely royal teats any time – you know, without having to hide out in the loo or risk the humiliation of getting thrown out.  I wouldn't mind, really. Neither would my customers."
That sentiment is shared across the British isles, where hundreds of thousands of petitions have been signed by Englishmen — and a smattering of lesbians — encouraging the Duchess of Cambridge to breastfeed her child "whenever she's out and about."
College student Adam Lerner, 17, has even offered to lend a hand. "Maybe she's out shopping, and she's left her kid home in the nursery," he said. "She might just want to practice breastfeeding.  I could help.  I could stand in for the little guy, if she wanted.  And if she got tired of holding those amazing titties, I could do that, too. No problem."
Harry Franks, a producer with the BBC, said he would like to film the breastfeeding Princess as part of a documentary.  "It would encourage other women of means to breastfeed their children," he explained. "We'd have very tasteful close-ups of Catherine's smooth, erect nipples entering the baby's mouth, and then show her gently massaging her tantalizing breasts afterward — because they'd be real tender —  preferably in little circles with her saliva-slickened fingers, slower, and slower — and then maybe smiling at the camera and winking."
Whether or not the Duchess breastfeeds is a highly personal decision. But should she decide to feed Prince George of Cambridge her "liquid gold," a grateful nation of caring men would cheer her on.
Princess Catherine declined to comment on breastfeeding, but her brother-in-law Harry thought it was "a dandy idea."