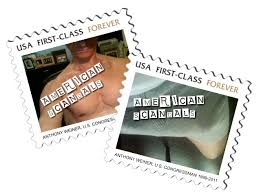 WASHINGTON (TheSkunk.org) — The U.S. Postal Service today announced it will be issuing a new series of commemorative postage stamps featuring the controversial  Anthony Weiner "selfies" – the naughty pictures the former congressman took of himself and tweeted to admirers around the country. The stamps will be part of the post office's "American Scandals" series.
"We've been working really hard to come of with innovative ways to increase our revenue," said a USPS spokesperson, "and we believe this stamp series will be hugely popular with postal customers of every age."
George Zimmerman, Elliot Spitzer and General Petraeus will be featured on upcoming stamps, along with several former postal employees.
"These are 'Forever Stamps,'" explained the spokesperson. "Despite whatever the postal rate is in the future, you can stick your commemorative Weiner to an envelope and send it anywhere in the U.S.A."
"Americans didn't invent sleaze," he added, "but these stamps are testament that we do it better than anyone."