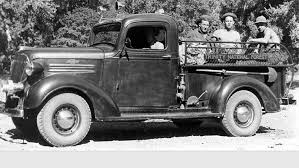 DETROIT (TheSkunk.org) — In light of reported fatalities related to faulty ignition switches and power steering mechanisms – and in a last-ditch effort to restore consumer confidence in their products — General Motors announced today that it will be recalling every single vehicle it ever made, going back to its founding in 1908.
"GM is committed one-hundred percent to the safety of our customers," explained CEO Mary Barra. "That's why we've issued this recall asking you to bring in any year and model of GM vehicle – whether Buick, Cadillac, Chevrolet, Pontiac, Oldsmobile, Saturn, or just plain GM – to your local dealer."
According to Barra, GM will not be performing any repairs on the vehicles.  Instead, they will be replacing them with Toyotas.
"We value the health and well-being of our loyal customers beyond anything else," said Barra. "So whether you bring in a 1932 Chevy Coupe or a 1976 Oldsmobile Cutlass Supreme, we'll take that death trap off your hands and let you drive home in the security and comfort of one of the best-selling, safest cars in the world."
GM executives stated that recall notices have been sent out to everyone on Earth.
"Most everyone has owned at least one of our products sometime in their life," added Barra. "If not, come on in anyway – we might be able to get you a great deal on a new Corolla."