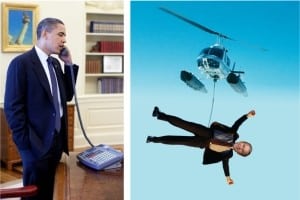 WASHINGTON — In an apparent sign of reconciliation with his predecessor, President Obama said today he will be sending former president George W. Bush on peace missions to some of the most dangerous parts of the world.
"These are places where terrorists are set upon killing anyone with an American passport," said Obama. "They are ruthless butchers who torture and behead indiscriminately. Roadside bombings are everyday occurrences. I feel these are the perfect situations in which to send President Bush, with one hand extending an olive branch and the other waving the Red, White and Blue."
The itinerary for the former president includes diverse areas such as Darfur, Gaza, Bogota, Congo and other world hot spots taken straight from the U.S. State Department's "Current Travel Warnings" page.
Secretary of State Hillary Clinton said Bush would maintain high visibility in these regions to demonstrate the willingness of the United States to target international conflict, head-on. "President Bush will face our enemies front and center," she said, "confronting these perilous situations directly and openly."
Clinton called it a "perfectly-suited challenge for someone of Bush's intellect and esteem," saying it would be "an opportunity to give back to the former president what he's given to the American people over the past eight years."
The proposed mission has received overwhelming bi-partisan support from Congress.
Sources close to Bush said that while he is honored to be called upon for service by the Obama administration, he feels the undertaking is much more suited for someone with Dick Cheney's background and temperament, and will be recommending the former Vice President for the job.