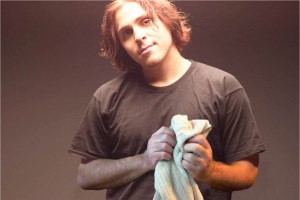 PITTSBURGH — High school senior Sean Allwinter prematurely ejaculated in his pants last Friday while on a first date with classmate Brenda Hendricks. Now she has agreed to go out with him again.
Brenda said the incident didn't upset her at all, concluding that her leg "must have brushed up against him or something."
The young man tried in vain to conceal his over-enthusiasm, but Brenda knew exactly what had happened.
"He ejaculated immediately," she said. "I was quite flattered."
"I just wanted to go home," said the seventeen-year-old wrestling team captain.
But Brenda talked him into staying. "After he — you know – finished his date, I convinced him to finish ours."
Sean tried to enjoy his evening with Brenda, despite the warm semen languishing on his thigh. "I really, really wanted to go home."
Brenda said she had a lovely time, with no pressure on her to have sex. "I didn't have to worry about him getting all crazy on me the rest of the night," she noted. "And if he did, I'd just rub my magic leg against him again."
Her parents were at first appalled when they learned of the premature ejaculating suitor, but were relieved to learn it happened within the first three minutes of their date.
"It put our minds at ease," said Brenda's father, John Hendricks. "After jizzing in his pants, I'm sure the last thing on his mind was getting our daughter to suck his dick."
When Sean showed up to take Brenda out again, her mother reminded them second dates always go much better.
"I asked him if he wanted to prematurely ejaculate on my leg," said Mrs. Hendricks. "Then he could get it over with before they even went out."
"I wanted to know if it even had to be a leg," laughed Mr. Hendricks. "I offered him my old baseball bat. He didn't think it was very funny."
Sean told the Hendricks not to worry this time. He had jerked-off before he left his house.
Brenda beamed. "I think he could be the one," she said, before giving him a peck on the cheek.
Sean gasped, then looked down at his pants. "Goddam it!"