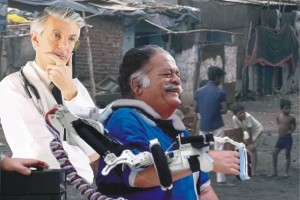 PORT-AU-PRICE, Haiti — Scores of ailing Americans arrive in this impoverished country by the hour, seeking life-saving medical treatment — unavailable to them in the states — from the best doctors and nurses to be found anywhere in the world.
Bookkeeper Jerry Arlindi always considered himself fortunate to be covered by the "cream of the crop" health insurance policy provided through his employer. When he was diagnosed with liver cancer last September, however, insurer Blue Shield sent him a letter denying coverage, calling the disease "too icky for us to handle."
Without proper medical care, Arlindi knew he would die within the year, but lacked the financial resources to get treatment on his own. After months of anguish, during which time he wrote his will and said "goodbye" to his friends and family, a devastating 7.0 earthquake struck the tiny island nation. Things started looking up.
Arlindi called it "a gift from God."
"The best doctors in the world have set up shop in Haiti," he noted, "and they're providing their services for free."
To stay alive, Arlindi knew he would have to travel to the devastated third-world country.
He signed up as a volunteer at the local Red Cross chapter. After a brief training period, he was on a plane, arriving at the Port-au-Prince airport last Thursday.
So far, his trip has been a success. Last night he was operated on by a team of Belgian surgeons aboard the USNS Comfort, the Navy's floating hospital. Doctors said they were able to remove all the malignant tissue, and even "a few growths from under my chin."
"He was lucky," said Dr. Arngun Bertelsmann. "It's unlikely he would have survived another week without the surgery."
Arlindi is recuperating alongside dozens of Haitian earthquake victims, lying on a hammock under a large makeshift canopy on the warm shore of the Caribbean.
Over 3 million Americans with serious medical conditions will come to Haiti over the next 12 months, according to some estimates. Bertelsmann said those numbers will ensure that he and his colleagues have enough volunteer work to keep them busy for years.
"I am grateful to the United States," he said, "for allowing me to practice my trade 24 hours a day, seven days a week, with no sleep."
Impressed with the quick and effective treatment received by Arlindi and others, Blue Shield has begun referring all its customers who have "health related issues" to Haiti for "treatment, cure and/or burial."
"It's innovations like this," said a spokesperson for the insurance giant, "that allow Blue Shield to hire and retain the highest paid executives in the health care industry."