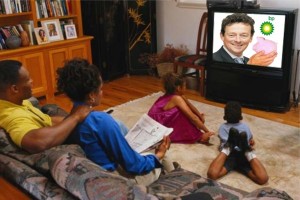 NEW ORLEANS (TheSkunk.com) — In a television commercial to be aired later this week, BP CEO Tony Hayward reassures the American people that his corporate compensation package will not be affected "in any way" by the oil spill.
During the 60-second spot, Hayward offers a message of hope directly to the citizens of the Gulf region, informing them that he will continue to receive his normal pay, adjusted for inflation, "plus bonuses and stock options."
"I implore you not to worry about me or my personal financial situation," he says. "I will get through this just fine."
The ad shows a montage of Hayward participating in a variety of activities, including sailing aboard his luxury yacht, having tea with Queen Elizabeth, enjoying a massage inside his private jet, and pissing in a Louisiana bayou.
"At BP, we believe that mistakes happen," says Hayward in voiceover, "and it takes well-paid, highly experienced corporate leadership to mitigate loss, assign blame and forge ahead to the next one."
Hayward expresses compassion for those affected by the destruction to the environment and collapse of the local economies caused by his company. "Throughout your suffering and anguish," he declares, "you can take comfort in knowing that nothing will have changed for me or my colleagues; we won't be losing our jobs, our homes or our way of life."
At the end of the commercial, Hayward looks into the camera, addressing the viewers in a sincere and heartfelt manner. "The oil spill is a catastrophe unmatched in human history," he notes, "but because of the sacrifices, determination and spirit of the people of the Gulf Coast, BP will continue generating huge revenues, thus ensuring the entire management team and I will continue to enjoy the lifestyles to which we have become accustomed."
"Nevertheless," he adds, "I thank you for your concern."