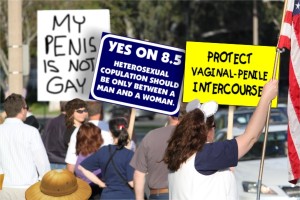 SALT LAKE CITY — The backers of California's Proposition 8, the law banning same-sex marriages, which was recently declared unconstitutional by a federal judge, are confident their next legislative attempt will pass judicial muster.
According to the website for the non-profit Defining American Marriages Nationwide, Proposition 8.5 — which will appear on the ballot in November — declares that "Vaginal-Penile Intercourse can only be defined as being between a man and a woman."
"We learned our lesson the last time out," said DAMN Chairman Richard "Dick" Peter Johnson, referring to the defeat of Proposition 8 in the courtroom. "This time we're being meticulous in the specificity of our wording."
According to a copy of the proposition obtained by TheSkunk.org, the "Defense of Heterosexual Copulation Act" would amend the state constitution, making it illegal to apply the term "Vaginal-Penile Intercourse" to the sex act when performed by anyone other than a man and woman.
"These gays have so many more ways to 'do it' than we do," lamented Johnson. "They have penile-penile, vaginal-vaginal, penile-anal, vaginal-anal, anal-anal, oral copulation, mutual masturbation, public displays of affection and thousands of other deviations I'm sure I'm leaving out. We're just asking for one that we can call 'our own.'"
Johnson believes the new legislation would be "lawsuit proof."
"God ordained Vaginal-Penile Intercourse to be between a man and a woman," he said. "Who can argue that?"
One group that intends to argue it is the Association of American Lesbians, that claims the law would discriminate against their rights to use artificial penises and so-called "strap-on" dildos with their partners.
When AAL opposition was brought to his attention, Johnson threw up his arms and sighed. "We never thought of that," he admitted. "Who knew they had artificial penises?"
If defeated, Johnson promises to be back again with a more specific proposition.
Prop 8.75, scheduled to appear on the ballot in 2012, will mandate that "the relationship between a man and a woman can only be between a man and a woman. "
"It's iron-clad," declared Johnson. "No one can touch it."
No one, that is, except for the Organization for Transgendered Individuals, who claims the law would unfairly exclude its members and is preparing to file court papers.
"Goddam it!" exclaimed Johnson, who remained defiant. "If we can't get that one through, we always have Prop 8.99, which defines the words 'man' and 'woman' as nouns."
To date, no organization has objected to "The Words 'Man' and 'Woman' are Nouns Act," and "that's just fine" with Johnson.
"I'm just hoping some crazies don't come out of the woodwork and try to use them as adjectives," he added.