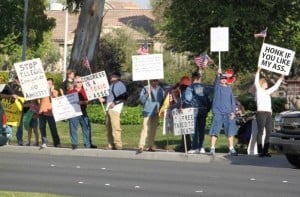 A Tea Party Pledge to America
We as Republicans, under the guise of a separate entity known as the Tea Party, offer the following:
A Plan to Improve the Constitution
We will repeal and replace the First Amendment with the Second.

We will add Fox News as the newly created fourth branch of government.
A Plan to Improve Race Relations
We will bring back the word "Negro."
A Plan to Support Capitalism and the Free Market
We will change the Motto of the United States to "Buyer Beware."
A Plan to Keep our Nation Secure at Home & Abroad
We will convert all Muslims to Christianity to thwart their attempts to take over the world.

We will employ Rand Paul's bodyguards to stomp on the heads of people we don't like.
A Plan for Gays and Lesbians
We will declare homosexuality a disease and prohibit gay people from marrying until there's a cure.
A Plan to Stop Out of Control Spending & Reduce the Size of Government
We will prohibit government intrusions into the lives of people who make over $250,000 a year.
A Plan to Support Issues Important to Woman
We will appoint Newt Gingrich to fill position as first "Women's Health Czar."

We will affirm that life begins at ejaculation.

We will appoint Justice Clarence Thomas to fill position as first "Porn Czar."

We will declare Bristol Palin the winner of Dancing with the Stars.

We will provide makeover for Sharron Angle so she looks more like Christine O'Donnell and Sarah Palin and less like a shriveled apple witch doll.
We will uphold our principles and fight for all American's, be they white, caucasian, male or Christian.