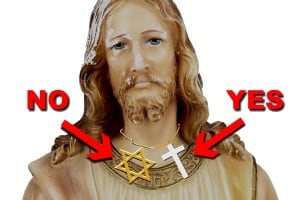 LYNCHBURG, VA — For centuries, Christians throughout the world have considered Jesus to be Jewish, but a new book authored by a prominent Christian scholar now puts that belief into question, claiming that Jesus Christ was, in fact, Christian.
In Jew Be or Not Jew Be, Dr. Nicolas Miller, Head Pastor of Liberty University, contends there is "no way" that Jesus was a Jew.
"First and foremost, Jews don't believe in Jesus," noted Miller. "If Jesus were a Jew, then he wouldn't believe in himself. How is that possible?"
Miller said his book should finally put at ease the minds of Christians everywhere, who for over two millennia wrestled uncomfortably with the notion they were praying to a Jewish boy.
Fellow biblical scholars are skeptical, calling Miller 's book everything from "a work of theological psychosis" to "the rantings of a blasphemous turd."
But Miller has his supporters, many of them coming from unlikely quarters. "It's an accepted fact that Christianity was named after Jesus Christ," stated Rabbi Moishe Godstein of Temple Jo-Beth Williams in New York. "How could the namesake of Christianity — i.e. C-H-R-I-S-T: Christ — not be a Christian?"
Goldstein said the idea of Jesus being Jewish was like "Henry Ford promoting Chryslers, or Walt Disney encouraging fans to go to Six Flags over Texas."
"If he were a Jew, you think he would have allowed the Holocaust?" continued Goldstein. "Nonsense. Jewish Jesus would have intervened to save those six million unfortunate souls because they were his people."
And why didn't God, himself, intervene to spare the Jews from Hitler's wrath? "Don't get me started," said Goldstein. "That's kind of a sore subject."
Miller attempts to make his case with simple logic. "If Jesus were a Jew," he writes, "we'd all be Jews today — I mean, except for the people who are already Jews or Muslims or Buddhists or what-have-you. But why would the rest of us choose to be in some different religion than our savior?"
The book concludes with perhaps Miller's most convincing argument. "Jesus was born not on Yom Kippur or one of the other 'Kippurs,'" he writes, "but on Christmas Day."
"Case closed," added Miller. "Jesus was a gentile."