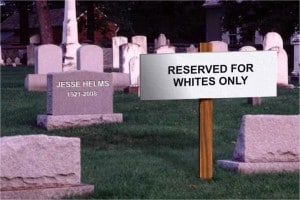 RALEIGH, NC — Disappointed with the current crop of GOP contenders seeking their party's presidential nomination, Republican officials are trying to persuade the corpse of the late Senator Jesse Helms to enter the 2012 primary race.
Helms's corpse, which turned 90 in July, has so far not commented on the "Draft Jesse" movement, which has gained huge momentum in the past few days.
"The RNC has been evaluating the current slate of candidates," according to Chairman Reince Priebus, "and we haven't seen anyone — if we're to be completely honest — who has a snowball's chance in hell of beating President Obama."
"We originally thought 'maybe Rick Perry,'" noted Priebus, who was instrumental in convincing the Texas governor to throw his hat in the ring, "but he's turned out to be somewhat of a liability, a — what's the word the kids use — oh yeah, 'douchebag,' a real embarrassment, even to Tea Party members."
That's when conservative consultant Karl Rove came to Priebus with the idea of digging up Helms. "He's a legend in the Senate," Rove told Priebus, "a respected lawmaker who publicly renounced his own racist views in the years prior to his death, yet is still able to remain the consummate conservative in the eyes of our party."
Rove is convinced Helms could be the next president, and has begun serious fundraising efforts. The "Jesse Helms in 2012" campaign committee so far raised $7 million dollars, most of it coming from billionaire oil tycoons, David and Charles Koch.
For his running mate, Rove and his associates are pointing to none other than Dan Quayle, who previous served in the VP position under the first Bush administration, from 1989 to 1993. "It will be an unstoppable ticket," declared Rove, who is credited with getting George W. Bush elected in 2000 and 2004. "If Obama thought the 2010 election was a 'shellacking,' wait until he goes head-to-head with Helms-Quayle 2012."
New polls out today show the Helms corpse ahead in direct face-offs with fellow Republican presidential hopefuls. Against Michele Bachmann, voters prefer Helms 110% to 0. In a match-up against Rick Perry, Helms gets 300%. Helms has a slight edge 53% to 47% against Mitt Romney, but once the campaign ads start, according to Priebus, Romney will be "significantly trounced."
Although admitting that Helms had made some "regrettable comments" over the course of his political career — mostly limited to blacks, homosexuals, Jews and women — Priebus predicts the Helms corpse will be the overwhelming Republican choice for president, provided he doesn't make any serious mistakes in his campaign.
"With only a handful of debates still to go," added Priebus, "and the fact that he's been dead for almost four years, it's pretty unlikely he'll say anything stupid."