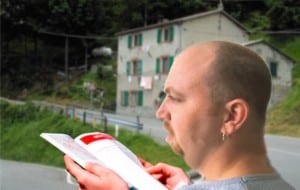 LONDON (TheSkunk.org) — Although the 2012 Olympics officially ended on Sunday, Kyrylo Fedorchak, a marathon runner from Ukraine, has yet to cross the finish line.
Officials speculated his excessive weight, low IQ and bad eyesight were possible reasons why the athlete, who hails from the city of Poltava and weighs 375 pounds, was still lumbering somewhere amid the 26-mile course.
As it turns out, Fedorchak was over 300 miles from the finish line.
No one had actually seen Fedorchak since mile three of the race until this morning, when a local reporter in Cologne, Germany discovered the massive marathoner trying to figure out which turn to take next.
"I get lost for couple days," Fedorchak told the reporter, breathing heavily as he ambled over to a bus bench and sat down.  "Is no big deal. I finish soon."
Olympic officials said that if and when Fedorchak ever does cross the finish line, they are considering awarding him a special "Tin Medal" for the longest time taken to finish any Olympic event, ever.
"Technically, it would be a world record," said one official. "I guess the guy should get something for his troubles."
But for the first time Olympian, it's more about participating alongside the world's greatest athletes than about winning a medal. "I don't need to have silly medal around neck," said Fedorchak. "It's an honor just to be here."
He took a deep breath and sighed. "Wherever the hell that is."