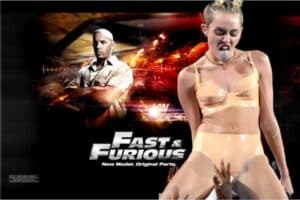 HOLLYWOOD, CA  (TheSkunk.org) — Twerky-jerky pop star Miley Cyrus will be replacing the late actor Paul Walker in the "Fast & Furious" sequels, according to Universal Pictures.  Walker was killed November 30 when a car he was riding in smashed into a light pole and burst into flames.
"When you think of street racing, you think of tearing down the pavement and carelessly crossing the line," explained a spokesperson for Universal.  "And who better epitomizes 'carelessly crossing the line' than Miley Cyrus?"
Cyrus will play Brianna O'Conner, the post sex-change persona of Brian O'Conner, the character made famous by Walker.
But Fans of the successful movie franchise are furious with the casting choice, and plan to boycott "Fast & Furious 7" whenever it is released. "Miley Cyrus doesn't look a thing like Paul Walker," noted one disappointed fan. "I understand the breasts and all, but did his character also get a facelift after the sex change?  It's too unbelievable."
High school junior Hank Pilmer, 16, agreed. "Who wants to see Miley Cyrus in a car with her clothes on?" he asked. "Even if she does have a dick."
Cyrus is looking forward to being on the set and working with all the high performance vehicles. "I've seen the movie 'Cars' bunches of times," she noted, "but I never dreamed I'd be acting with them."
According to Cyrus, she has not yet seen the screenplay, which is currently being rewritten to add her character into the plot. "I'm not sure how they're going to include me into the story," she added, "but I'm sure they know hot how I look in a convertible."