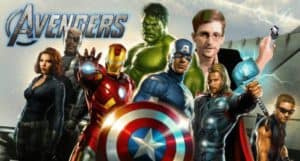 BURBANK, CA (TheSkunk.org) — The Walt Disney Company announced today it will be adding a new superhero based on rogue spy Edward Snowden to its popular Marvel Avengers series. In the upcoming film, titled "The Secrets of S.H.I.E.L.D. Exposed," the brilliant, but eccentric Snowden character will work as a computer systems agent for S.H.I.E.L.D.
According to director Josh Whedon, "Snowden will be a great complement to the rest of the flawed superheroes, as he struggles between doing what's right for the country, and what's right for the haunting specter of delusion that follows him around every tormented minute of his life."
Although the screenplay has been completed, its content is being cautiously guarded by Disney, with each script copy being numbered and accounted for, in order to keep the storyline out of the press until the movie opens, sometime in 2015. Secrecy is commonplace among studios that produce big budget blockbusters. The real Edward Snowden, however, believing the clandestine nature of the "Hollywood Machine" needs to be more transparent, has recently downloaded his own digital copy of the script and forwarded it to Entertainment Tonight.
Disney CEO Bob Iger has expressed his displeasure at the disclosure, saying it would hurt the film at the box office, but indicated it would not be worth his time "pursuing a lawsuit against another paranoid twenty-something trying to break down the Hollywood system."
Snowden responded to the accusations, stating that the release of the script to the media will have no negative impact on the profitability of the film. "The studio wants you to believe my actions in bringing this document to light will somehow be a spoiler for audiences," he said. "But the audience's right to know what will happen to Captain America and Thor and Hulk trump any rights the studio thinks it has to the day-to-day lives of these characters.
Snowden said he looks forward to the star-studded premiere of the movie. "Unfortunately," he added, "I'll be watching it from a twelve-inch black and white TV set somewhere in Siberia.