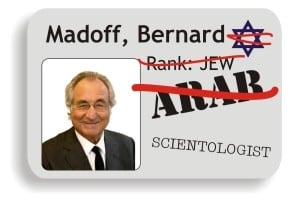 NEW YORK — Once a highly-ranked, card-carrying Jew, Bernard Madoff, the mastermind behind the largest financial scam in history, has been reduced in rank to Arab.
"So many Jewish charities were hurt because of this schmuck," said Rabbi Moses Lieberman, head of the International Jewish Cabal of Elders, the organization that controls the worldwide media (except for Al Jazeera), the U.S. elections and decides the winners of the Publisher's Clearing House Sweepstakes. "We could no longer have the good work of our members tainted with his shmukht."
Lieberman said he and his colleagues thought they heard the last of Madoff, when they instructed the Justice Department to keep him under house arrest in his luxury New York apartment while awaiting trial.  "We were thinking Talmudic," he said, "by requiring Madoff to spend time amongst the objects of his own greed."
But they knew they had to do more when they received an angry call from director Steven Spielberg, who himself lost millions in Madoff's Ponzi scheme. "Steven threatened to sponsor a Palestinian Olympic team if we failed to act."
So they sent an emissary to Madoff.  "We took away his Jew title," said Lieberman, "and reduced him in rank."
"We were going to make him a Catholic," added Rabbi Shmuel Fine, "but we decided to take him all the way down."
"Madoff is now an Arab," said Lieberman, "a farkakt, camel-humping Arab."  He spit on the ground three times and stomped on it with his foot.
King Abdullah of Saudi Arabia was outraged when he heard of the demotion, saying that Madoff "wasn't good enough to turn his eyes in the direction of Mecca."  The Saudi leader then issued a proclamation denouncing Madoff and declaring him a Scientologist.
A spokesperson for the Church of Scientology subsequently held a press conference later in the day. "Bernard Madoff convinced a large group of trusting, but naive followers to give him billions of dollars without asking questions," he said. "We welcome him to Scientology."
And what's next for the Jewish Elders?  "We've developed new computer software," said Rabbi Lieberman, "that allows us to control oil prices from our iPhones."