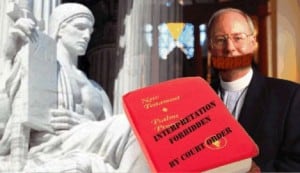 FULLERTON, CA — At a rally Tuesday, jurists from around the country expressed their dismay at the rise of what they call "Activist Christians."
"Christians should follow the bible exactly as it is written," said Judge James B. Coronado, "and not try to interpret it for their own religious purposes."
Judge Coronado is dismayed at the number of Christian ministers who tell their congregations, "God wants you to do this, or God wants you to do that."
"How in the hell do they know what God wants?" asked Coronado.  "If it's not in the bible, they gotta stop making this stuff up."
Family Judge Sally Carter agrees.  "Activist Christians filter the bible through there own conservative biases," she said, "then decide for their congregants which behaviors are allowable and not allowable."
"We need ministers who strictly follow God's laws," added Coronado, "and rid ourselves of those who legislate from the pulpit."
The rally, held at the First Resurrection Church of Christ, was put together by Judges from the 9th and 10th Circuit Courts, their law clerks and families, to formally protest the hiring of a minister who they claim is an activist Christian.
"A majority of the judiciary sees things as we do," said Judge Carter.  "If these activist Christians don't stop interpreting the bible, we'll replace them all with paralegals who have respect for the written word and won't interpret every 'Thee' and 'Thou.'"
"This is only the beginning," promised Coronado.  "We will weed these activist Christians from churches all across America, from the farms and the factories, from Main Street to Wall Street, until every minister, preacher, pastor and preist adheres strictly to the bible as it is written."
"The legal system has called us to action," said Carter, "and we are its servants."
"Amen," added Coronado.