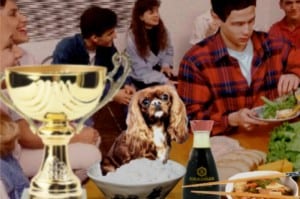 NEW YORK – A Vietnamese judge for the 2009 Westminster Kennel Club ate the "Best in Show" winner, a beautiful brunette Sussex Spaniel named Stump.
"I sat in that chair for hours, watching hundreds of dogs parade back and forth right in front of me," said Tu Trung, a native of Ho Chi Minh City who was assigned to the Terrior Group, "and I hadn't eaten anything since breakfast."
Trung said it would be akin to a famished American being surrounded by plates of juicy filets, and not being able to touch them.  "At the end of the day," he said, "you're going to grab a steak and shove it down your throat."
Members of the Dog Show Committee were initially shocked and outraged at the action of their Asian colleague, but after sampling portions of his skillfully prepared canine meal, they were delighted with its tenderness, aroma and flavor.
"I had no idea what we had been missing, merely looking at the dogs," confessed club president Dr. Frank S. Halliday, wiping a bit of fur from his lips. "I guess old dog aficionados really can learn new tricks."
And what's the secret behind this tantalizing doggie delicacy?
"I used my mother's recipe," said Trung. "Except I substituted a light soy sauce, because my doctor says I have to watch my salt."
Stump's owner was initially torn apart over the loss of her cherished pet, and threatened to sue Trung.  After tasting a succulent piece of her best friend's thigh, however, she dropped plans for a lawsuit and decided to enter the leftovers in the International Culinary Competition.
"If my baby can be the first dog to win both 'Best of Show' and 'Best Entrée,'" she said, pausing to swallow a small piece of breast meat, "it will all have been worth it."
Doggie bag, anyone?