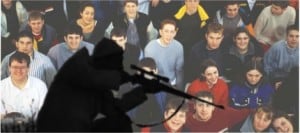 BLOOMINGTON, IN — An armed gunman who went on a rampage at Indiana University on Thursday was unable to inflict injuries to anyone, despite firing hundreds of rounds into a crowded campus rally.
"This guy is the worst shot in the world," said Lt. Carsten Preuss, head of campus security.  "My three-year-old's done more damage just fooling around with my sidearm."
The gunman, identified as 20-year-old pre-med student Allan Conner of Sheboygan, Wisconsin, appeared in a crowd of two-thousand students and began opening fire with an automatic rifle.  The sound of the shots sent the students scrambling in every direction, but miraculously, none of Conner's bullets hit anyone.
"Once we saw what a horrible shot he was," said freshman Frans der Helst, an exchange student from Amsterdam, "we stopped being afraid and just watched as he tried to hit something.  I think one bullet might have nicked a tree."
Conner continued firing, despite taunts and chuckles from the incredulous crowd.
"I feel bad for laughing at him," said der Helst. "He wanted to be a mass murderer, and now he'll go down in history as the world's worst marksman."
After nearly twenty minutes, the frustrated gunman took his weapon and headed back to his dorm room, where he apparently tried to commit suicide.
Residents of the dormitory reported hearing a deluge of rounds being fired in rapid succession.  Police arrived moments later to find the suspect sobbing in his bed, the smoking rifle at his side.  Hundreds of gunshot holes peppered the walls and furniture, but Conner was unscathed.
"I kinda felt sorry for the guy," said Lt. Preuss. "To fail on such a massive level has got to be disheartening."
Conner was taken into custody, but later released after prosecutors decided he did not pose a serious threat to the community.