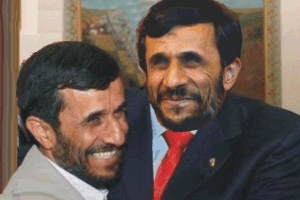 TEHRAN, Iran – Iran's President  Mahmoud Ahmadinejad formally endorsed himself for a second term as president Monday in a ceremony that sought to quell discontent among Iranians, by declaring himself a leader worthy of his own acclamation.
"I am pleased to inform the Iranian people that I, Mahmoud Ahmadinejad, have staked my own reputation to declare myself the undisputed president of Iran," said Ahmadinejad, "and that I, Mahmoud Ahmadinejad, being the best qualified person for the job, do hereby give myself my wholehearted recommendation and approval."
Ahmadinejad said he is honored to accept the reigns of power from himself.  "I am humbled to consider myself  the greatest Iranian President since Mahmoud Ahmadinejad who proceeded me," declared Ahmadinejad, "and to receive this profound declaration from such an esteemed leader as myself."
Ahmadinejad vowed to continue his predecessor's beloved policies of "global isolation and self-destruction."
After giving himself his official seal of approval, Ahmadinejad kissed the back of his own hand, in symbolic deference to himself.