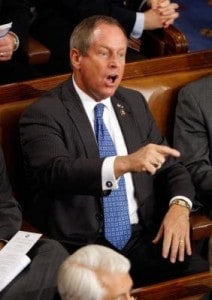 CHARLESTON, S.C. — Rep. Joe Wilson (R-SC), who shot to fame by hollering "You lie!" during President Obama's speech on healthcare, has been tapped to appear in a series of Budweiser commercials as the "Rudest Man in America."
The spots, a spoof of the Dos Equis "Most Interesting Man in the World" campaign, will depict Wilson as a savant-of-sorts, who shrieks the infamous two-word phrase at ads for competing ales.
In one commercial, a narrator suggests that Coors Light is brewed with water "from the finest mountain streams." Wilson shouts at his TV, "You lie!"
Another spot has the Republican congressman surfing the Internet. An ad pops up, depicting a disheveled, overweight man who attracts a bevy of scantily clad beauties by offering a six pack of Corona Extra. Wilson bellows into his monitor, "You lie!"
The ads end with am image of Wilson knocking back a can of Bud and belching into the camera.
"The Rudest Man in America drinks Budweiser," declares a narrator, "and that's no lie!"