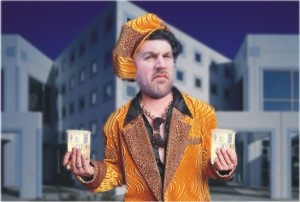 DENVER – An area man has been banned from making further donations to the Heritage Sperm Repository. According to records, Oliver Kertockum visited the clinic every day for the last three years. When he arrived last Friday, however, staffers refused to hand over the sterile collection cup, and instead demanded he seek professional help.
"Sometimes he'd show up three, four times in one day," said Head of Operations Nedra Crullington, who expressed her relief that she won't be seeing him anymore. "We'd arrive at work at seven in the morning and he'd be waiting for us."
"Except for those times when he just couldn't wait any longer," added a co-worker, "and we'd just find a sample left for us on the door." The clinic eventually decided to provide Kertockum with his own supply of collection cups to keep at home.
Kertockum, who was paid $75 per visit, said he quit his job in September to be a full-time donor. "I took a lifelong hobby and turned it into a business — now they want to jeopardize my livelihood."
"I told him, 'Enough already!'" said Crullington. "'We don't need any more of your damn sperm.'"
Crullington worries that in a few years the city will be inundated with hundreds of in vitro bred children possessing "the same pointy chin and annoyingly narrow eyes."
For Kertockum, who admits to masturbating up to 300 times a day since he was six, it's not just about procreation. "For a single guy, the experience can be quite romantic," he noted. "They put you in a clean, private room with candles and a wide variety of porn."
To get himself "in the mood," Kertockum said he would often bring with him a bottle of wine. "I'd pop the cork," he quipped, "before I popped the cork."
With an assortment of materials ranging from men's magazines to adult DVDs at his disposal, Kertockum said he never lacked for variety. "Sometimes, if I had a little 'trouble,' just closing my eyes and thinking about the contours of the perky little beaker that awaited me would do the trick."
Crullington said she once suggested to Kertockum that he get married and have sex in the normal manner, "once every three or four months." Kertockum responded that her "sexy voice" was a turn-on and he was ready to make another donation.
Kertockum has retained an attorney, and hopes the court will intervene to allow him to continue profiting from his lifelong passion. Meanwhile, a preliminary injunction has been issued, requiring him to stay at least 1500 feet away from anything that can be stained.