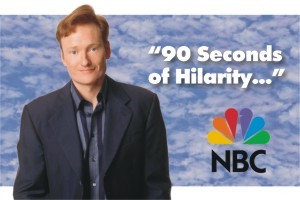 BURBANK, CA — Conan O'Brien is being wooed back to NBC, this time with his very own five-minute show, to be aired nightly from 11:30 to 11:35 pm.
Five Minutes with Conan is the brain child of NBC Universal President and CEO Jeff Zucker, who is desperate to end a sequence of bad decisions he made since crafting the disastrous scheme to move Jay Leno to prime-time last spring, a decision considered to be one of the worst in history, second only to the Supreme Court's Dred Scott case of 1857.
After seven months and zero audience, NBC announced it will be pulling the plug on the 10pm Jay Leno Show.
Zucker's subsequent scramble to return Leno back to 11:35 with an abbreviated version of The Tonight Show and shove O'Brien to a newly created midnight slot only served to create bad-will between NBC, Leno, and O'Brien — who ultimately left the network after receiving a multi-million dollar severance package — and left audiences scratching their heads and tuning into David Letterman.
Five Minutes is NBC's attempt to "make things right" with the late-night comics and their viewers, according to Zucker.
"At some point, the dominoes have to stop falling," explained Zucker. "With this new show, we're asking Conan for a 're-do' — a chance to set those dominoes back up."
With commercials, Five Minutes would actually be closer to one-and-a-half minutes, admitted Zucker, but NBC would give O'Brien "complete creative control over what we feel will be an hysterical, must-see 90 seconds of television."