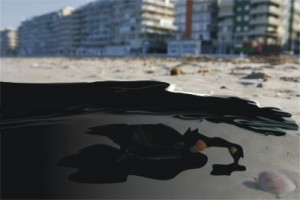 NEW ORLEANS — A four-year-old Canada goose, who nearly died in a bird strike when his flock was vaporized in the engine of an Airbus A320-214 that crash-landed in the Hudson River in 2009, was found dead of oil poisoning on the Louisiana shoreline.
The goose, a native of Ottawa, was on a tour of east coast golf course lakes in January 2009, when a U.S. Airways plane sucked the rest of his gaggle into its engines. He was the lone surivivor.
He would later recount how he owed his life to the captain of the plane, Chesley Sullenberger. "Sully was shouting something from the cockpit," the bird told Larry King in an interview. "I couldn't hear him, but I read his lips: 'Get out of the way, you fucking geese!'" The goose said that Sullenberger's warning enabled him to fly high enough above the plane to avoid collision.
On Monday, while on a shrimping expedition in the Gulf of Mexico — 16 months after his near miss in the skies above New York — the goose dove into the chilly waters, looking forward to dining on the famous Cajun crustaceans, but instead became trapped in a glob of gooey petroleum.
His limp, oil-soaked body was found on the shore an hour later.
"He always felt there was a reason God spared him from being puréed in that aircraft," said a mallard who had befriended the goose earlier this year. "And now this. I guess God wanted him dead, after all."
In lieu of flowers, the family of the goose is asking people to get rid of their cars, stop buying gasoline and give America back to the Indians.