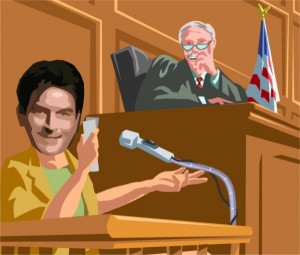 ASPEN, Colo. (TheSkunk.org) — Domestic violence charges against actor Charlie Sheen were thrown out Wednesday, when the judge presiding over the case realized the defendant is the actor who portrays Charlie Harper on the hit CBS series "Two and a Half Men."
"I love that show," Judge Rick Elnow told Sheen. "If I had known from the outset that a TV star of your magnitude and talent was set for trial in my courtroom, the case never would have gotten this far — I apologize for the inconvenience."
Sheen was accused of striking his wife, Brooke Mueller Sheen, in an argument on Christmas day, while the couple vacationed in Aspen.
"We can't find this man guilty of a crime," declared Elnow, who summarily dismissed the case. "Creative people display this type of behavior all the time.  It's part of the creative process."
Prosecutors from the District Attorney's office accused Elnow of giving Sheen preferential treatment because of his status as a Hollywood celebrity.
"Duh!" responded Elnow, who has served on the bench for over twenty years. "I don't see what the problem is. Celebrities are special people and we cannot hold them accountable to the same guidelines as regular Joe the Plumbers."
Mrs. Sheen's lawyer objected to the dismissal, but the judge informed her it was already a matter of record.
"I hope Mrs. Sheen appreciates she's living with the star of one of the funniest TV shows ever," stated Elnow, "and learns to make allowances for his behavior. Just because of a few bruises — and an insignificant amount of blood seeping from one or two teeny, tiny abrasions — she was willing to deprive the entire world of his comic genius."
Gazing harshly at Sheen's wife and her attorney, he bellowed, "I won't allow it."
Elnow ordered Sheen be released from custody immediately. Before the actor could leave the courthouse, however, Elnow offered a bit of judicial advise. "The next time you feel the need to strike your wife, young man, remind her to stop and think how famous, talented and deserving you are before she picks up the phone to call police."
Sheen expressed gratitude for the judge's wisdom, then handed him two tickets to a taping of his sitcom.
"I'm honored Mr. Sheen invited me to see his show," Elnow later told reporters. "I look forward to going backstage and meeting the cast — and glowing in the specialness of all those talented people."
"I just hope that bitch of a wife isn't there," he added.