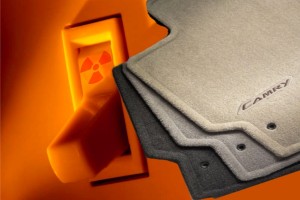 TOKYO (TheSkunk.org) — A couple of improperly fitted floor mats from a 2009 Toyota Camry were cited as the cause of the partial meltdown of reactor cores at Japan's Fukushima Dai-ichi nuclear power plant.
"The floor mats interfered with the main electrical switch and caused it to get stuck in the off position, resulting in a loss of power which led to an overheating problem," explained plant manager Yoshi Fukushima, the grandson of the facility's designer. "We hope to have the proper, redesigned floor mats installed within a week or two — maybe sooner, depending on how quickly our factory in Bejing can turn them out."
Until then, Fukushima said workers will be carefully trimming the floor mats currently in use, so that they can turn the power switch back on.
Fukushima cautioned that it's only a "temporary fix" but it should be sufficient to address the immediate problem of leaking radiation.
"We think this will work," he added. "At least, we hope it does."