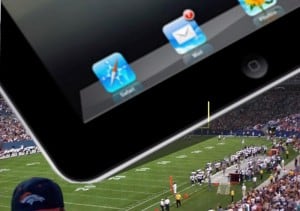 CUPERTINO, CA (TheSkunk.org) — With release of the iPad 3 just around the corner, Apple's Chief Executive Officer, Tim Cook, today announced plans for the fourth generation of its successful tablet computer. The iPad 4 will be similar in design to the previous versions, except its screen will measure 600 feet by 1900 feet, making it the size of six football fields and giving it the highest visibility among its competitors.
According to Apple, users will be able to view the screen from a mountain top over two miles away.
"The oversize dimensions will come in handy if you need your iPad at a meeting, but left it at home," noted Cook. "If it's a clear day, you can still see it."
"And there's a great new app that comes with it," he added. "It's called 'Life-Sized Maps.'"
The iPad 4 is expected to ship in the Spring.