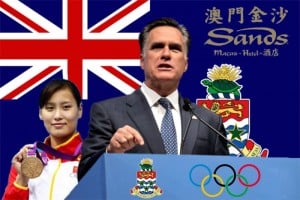 LONDON (TheSkunk.org) — Mitt Romney announced today he has acquired the Cayman Islands Olympic team and, as part of a restructuring process, has fired all five athletes, replacing them with Chinese Olympians.
"The Cayman team has not placed in the top three in a single competition," explained the Republican presidential candidate, "and with only a few days left in the games, I made the decision to give their jobs to the Chinese athletes, who have won a ton of medals."
The Cayman team members, who were in London to compete in swimming and track events, said they were shocked when Romney barged into the cafeteria during breakfast to announce they were all being laid off.
"He seemed so happy about it," said Emma Tyler, a Cayman sprinter who failed to qualify for any event. "It was as if he took great pleasure in firing us."
The decision to replace the team was "all business," according to Romney, who formed  a shell corporation in the Caymans to handle the transaction. "The Chinese athletes work longer hours, don't complain, and are willing to let me smelt their medals down into gold, silver and bronze bars that can be sold on the open market."
If the revamped Cayman team doesn't win any of their events, Romney plans to ship the athletes to billionaire Sheldon Adelson's Sands Casino in Macau, "where they will be employed by the hotel as prostitutes catering to high rollers."
Romney cited the plan as further evidence that he knows how to create jobs.
"Each of these athletes will have the opportunity to be abused by some incredibly wealthy individuals," noted Romney, "and they will experience, firsthand, what it's like to live the American dream."
"That's what every American deserves," he added, "and that's what they'll get if they elect me president."