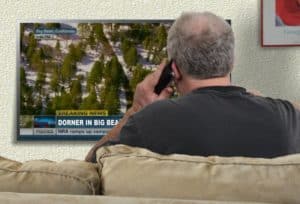 LOS ANGELES (TheSkunk.org) — The Los Angeles Police Department presented unemployed bartender James Allen Ennes with a check for $1 million dollars, which was the reward offered for information leading to the arrest and capture of fugitive former LAPD officer Christopher Dorner.
In a statement, the Los Angeles Police Department said that Ennes "witnessed every aspect of the investigation on his 55-inch 1080p HD television, and was able to relay information to authorities in great detail, from the initial reports of the killing spree all the way through the final standoff and shootout, which he observed from the unique perspective of a news helicopter. "
According to the statement, Ennes had an "unequivocal, bird's eye view of Dorner's cabin bursting into flames and then slowly burning to the ground."
"Ennes called our hotline number several times during the course of events to update police on what he saw happening on TV," stated LAPD Chief Charlie Beck. "Through his astute television viewing, this fine citizen helped us piece it all together and bring the perpetrator to justice."
Ennes beat out several others for the reward money, including a forest ranger who contacted police after Dorner stole his truck, and an elderly couple who were taken hostage at gunpoint by Dorner and were subsequently tied up and gagged by him.
"These other folks came in a close second," said Beck. "And while their terrifying ordeal with this psycho killer is appreciated, it was Mr. Ennes who was able to guide us in the right direction, through an intense viewing regimen that included CNN, local news and 'The Jon Stewart Show.'"
Ennes said he will use some of the money to buy an even bigger TV.