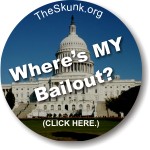 WASHINGTON — The federal government is planning on bailing out huge Wall Street corporations with up to a trillion dollars of taxpayers' money — your money!
The Skunk doesn't think that's fair.  We believe average citizens like you should get a cut of the proceeds.  That's why we're proud to announce our "Where's My Bailout Money, Congress?" assistance program. 
Simply fill out this easy form (or click on the button to your left) to tell your representative how much money you need and what you need it for, then sit back and wait for the arrival of your official government bailout check.
Happy Shopping,
Editors, TheSkunk.org