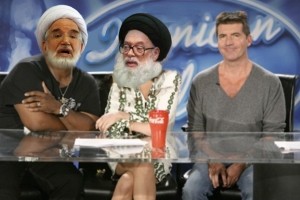 TEHRAN — Iranian Grand Ayatollah Sayyid Ali Khamenei has been accused of rigging the results of the popular TV competition "Iranian Idol." 
After singer Fazlullah Mehani amazed Iranian viewers during the season finale with his stirring rendition of "More than a Feeling," fans rallied across their nation, texting hundreds of millions of votes on his behalf.   But when a tap-dancing cleric named Hirad Siyavushi was declared the new Iranian Idol with an astounding 700 million votes separating him from the runner up, Mehani supporters suspected tampering.
Siyavushi's performance in the finale, a cover of Outkast's "Hey Ya," was considered by most observers to be less than stellar. 
The three-judge panel concurred.  Fereydoun Mozhdeh, an executive with the Iranian State Music Agency, said it was "pitchy" in many parts. Kamshad Abd al-Qaadir, the country's Chief Artistic Mullah, said he hated the arrangement.  British record executive Simon Cowell called it "a weak karaoke version of the original."
Despite the criticisms, Siyavushi won the "Idol" title with the largest margin in history.
AT&T, sponsor of the popular show, assured fans there was no fraud.  "If we were talking about fifty-thousand votes, or even a hundred thousand votes, it could be conceivable," said an AT&T spokesperson. "But 700 million? No way."
Phone company records obtained by The Skunk, however, indicated that most of the 700 million votes for Siyavushi had originated from Ayatollah Khamenei's own personal Blackberry.
That's when fans of Mehani took to the streets in protest, demanding their Supreme Leader's votes be invalidated.
"Mehani should be the next Idol," said Arezoo Amuzgar, a student at Tehran University.  "That fraud Siyavushi cannot even carry a tune"
"Siyavushi is a puppet singer of the regime," added Shayan Khakpoor, a professor of political science. "Death to Siyavushi."
"Death to Siyavushi" was the rallying cry echoed by millions of students in public squares and shopping malls across the country — a threat that hadn't been used against an Idol contestant since Sanjaya Malakar appeared in the season six finals of the American version.
But the results of the finale remained unchanged.
"It is what it is," Khamenei told an assembly of loyal followers. "Siyavushi is the new Iranian Idol and you need to accept that. Anyone found demonstrating against the results will suffer the consequences."
Cowell said there was no rule against casting multiple votes and, in fact, the show encourages it. "If fans really wanted Mehani to win," he explained, "they could easily have done what the Ayatollah did, and texted hundreds of millions of votes. They didn't.  Their guy lost.  Deal with it."
President Obama has condemned the results and rebuffed Khameini's comments that the United States was "fueling the flames" of Idol unrest.
"We support the right of reality show contestants around the world to win their competitions," said the President, "in free and unadulterated text messaging."