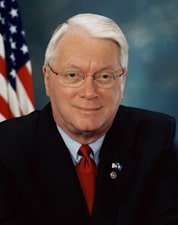 WASHINGTON — After blocking passage of a jobless benefits bill, Senator Jim Bunning (R-KY) announced today he will compensate the nation's unemployed by offering them non-paid positions as his personal servants.
"They should consider it an internship," said Bunning. "They will learn the inner workings of my life — where I keep the toilet paper, for instance, or how I clip my toenails — while gaining valuable, real-world job experience."
Bunning said that listing his name on a resume will impress prospective employers. "When a company learns that a jobseeker has worked for me as a man-servant or clerical-maid, they will enthusiastically hire that individual."
Bunning told reporters the tasks required of his servants will include washing his car, shredding incriminating documents and performing oral sex on him from the other side of a quarter-inch sheet of plywood, through which a half-inch hole has been drilled.
In exchange, Bunning said all his servants will receive one meal a day and "a piece of land where they can go to sleep."
Because the servants will not be receiving paychecks, Bunning said he is under no obligation to offer employer-provided healthcare. "Once their services are no longer needed, we take them out back, shoot them in the head, and put them in the compost pile." He called it a "win-win-win" situation that demonstrates his commitment to the environment.
Bunning criticized the Obama administration for throwing billions of dollars into a futile stimulus package instead of going with the "Bunning Plan," which he contends will actually produce results.
"The President's Recovery Act hasn't created a single job," he noted. "Yet I have single-handedly given every unemployed person in this country an opportunity to suck my dick."