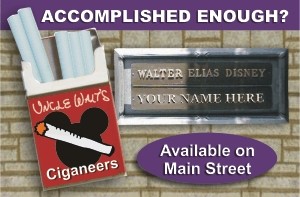 ANAHEIM, CA — Fans of Walt Disney will now have the opportunity to smoke the very same tobacco that took the life of their beloved hero.
At a press conference held at Disneyland on Monday, Philip Morris International Inc. introduced "Uncle Walt's Ciganeers," a new line of cigarettes that combines the nicotine used in Lucky Strikes with that of the French Gitanes brand — Walt's tobaccos of choice –- to honor the legendary filmmaker and beloved theme park impresario.
In the months leading up to his death in 1966, Disney's lungs had become so riddled with cancer, surgeons had to remove one of them in its entirety.
"Years of smoking our product brought this genius down in the prime of his career," explained Louis C. Camilleri, Chairman and Chief Executive Officer for the tobacco giant. "Now his fans can take their last breaths in the same manner as Walt, with the same carcinogens ravishing their bodies."
Marketed primarily to tweens and their parents, the unfiltered cigarettes will be promoted with a series of "Die like Disney" ads to be aired worldwide.
The license to utilize the famous moniker had been previously approved by former Walt Disney Company CEO Michael Eisner. "Nostalgia was very important to Walt," said Eisner in a 2006 interview. "To hide that part of history — to pretend that the man didn't smoke himself to death — would be an insult to his millions of adoring fans and the families who frequent our parks."
Uncle Walt's Ciganeers will be the only tobacco product ever sold at the Disney theme parks, and will be given away free to guests with purchase of an annual park passport.