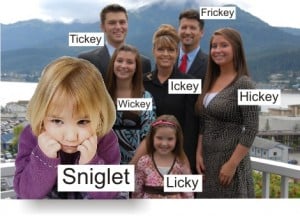 ST. PAUL — Republican Vice Presidential nominee Sarah Palin announced today that her three-year-old daughter, Sniglet, is four-months pregnant.
"We're very proud that Sniglet has chosen to keep the baby," said Palin, "and prouder that she was able to do it without any instruction in human sexuality."
Sniglet plans on marrying the father, 32-year-old Snippy "Just-Call-Me-Uncle" Palin, her older cousin and sometime-babysitter.
"As Sniglet faces the responsibilities of early childhood, learning the names of her colors and how to poop in the toity, she knows she has our unconditional love and support," said the Alaska governor.
Governor Palin plans to enroll Sniglet and Sniglet's unborn fetus — tentatively named "Fetus" —  into a private evangelical kindergarten.
"Sniglet and her boyfriend are going to realize very quickly the difficulties of raising a child," she said, "which is why they will have the love and support of all our children and their fetuses."